Lake Street History
Lake Street History. Bernard and Bertha Mann sold the property at 37 Lake Street to Frank and Mary Wolfe in the early 70's.
Construction Begins
Frank and Mary Wolfe and his parents, Gertrude and Harold Wolfe, commenced work on 'Lake Street Gardens' in August, 1973. Harold Wolfe oversaw construction of the Sales and Work areas and the original 8 bay 'Van Wingerdan' greenhouses. Gertrude was a local realtor and had years of business experience to aid her son. Frank did much of the greenhouse construction himself.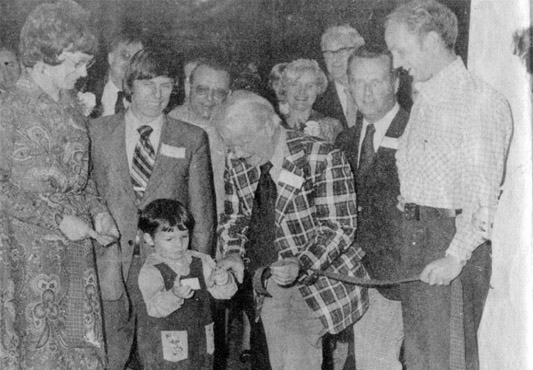 Garden Center Opens
Mary and young son Tim were frequently on hand to help out with construction projects and growing the first crop of plants. Nestled in a residential area, many people thought 'Lake Street Gardens' was a housing complex. They later changed the name to 'Lake Street Garden Center'. Three year old son, Tim, cut the ribbon for the Garden Center Opening in early May of 1974.
The Founders
Frank and Mary both have a bachelor's degree in horticulture from University of New Hampshire. They both did graduate work at University of Connecticut. After graduation, Frank trained for the Peace Corp in Puerto Rico. He spent a year at the Arnold Arboretum, Harvard University's botanical garden. He worked under plant propagator Alfred Fordham and well known horticulturist, Dr. Donald Wyman, author of many plant books. Frank studied under Dr. Gustav Mehlquist, plant geneticist at University of Connecticut. Dr. Mehlquist was a Swedish plant breeder who developed many varieties of rhododendrons and red delphiniums. Frank received his Master's Degree in Plant Taxonomy in biological science under Dr. Howard Pfeifer and worked several years towards his PhD. Dr. Pfeifer's specialty was the genus aristolocia (Dutchman's Pipevine).
Frank Wolfe
While in graduate school, Frank travelled to South and Central America on several plant collecting trips as well as Puerto Rico. He collected in Trinidad, Surinam, Venezuela, Colombia. Panama, Peru and Ecuador. One trip to Pucalpa, Peru was with a group collecting plants for the US National Arboretuem and birds for the Smithsonian Institute. Frank has won awards for numerous flower show exhibits at the former New Hampshire Flower Show in Manchester as well as Boston. He has forced flower show plants for other exhibitors for numerous flower shows from Rhode Island to Maine to Rochester, New York and has won awards for flower show forcing.
Mary Wolfe
Mary grew up on a dairy farm in central New York State. While a student at University of New Hampshire, she worked for the New Hampshire state seed analyst. She next spent a year studying plant taxonomy at the Royal Botanical Garden in Edinburgh, Scotland on a Garden Club of America / Fison's Horticulture / English Speaking Union Fellowship. She travelled in England, Scotland and North Wales on her holidays that year. After Mary and Frank were married, she worked at University of Connecticut as a research technician in the Plant Science Department for several Professors. Mary served as assistant to a soil chemist, a potato specialist, a plant physiologist and a vegetable extension agent. She also did graduate study under Doctor Sidney Waxman in woody plant propagation. She joined Frank, Doctor Pfeifer and plant taxonomy class on a plant collecting trip to Puerto Rico.
Second Generation
Frank and Mary's three children have all worked in various aspects of the business. Son Tim, became Nursery Manager after his graduation from UNH. He has grown and sold lilacs for 20 years. Tim has served on the executive board of the New Hampshire Plant Grower's Association. In 2003 he was given the New England Nurseryman's 'Young Outstanding Professional' award.
Continued Success
The family business was featured in the winter 2006 'YANKEE Magazine' and in spring 2007 'Peoples Places and Plants' for their flower show forcing. They also had a segments on the Comcast Network show 'American Builder'. 'New Hampshire Chronicle' WMUR TV featured Lake Street's flowershow forcing in March 2008. In January 2008 Frank and Mary handed the business over to their eldest son Tim to manage. Frank and Mary are still very involved in the business. Their youngest son Tom helps with marketing and computer technology. The garden center continues its outstanding success with the next generation of Wolfes.