Mary Wolfe, co-founder of Lake Street Garden Center.
Houseplants
Inside one of our greenhouses in May. New Guinea impatiens and sweet potato vines in the foreground.
Holiday Baskets
Custom made Easter baskets.
Seed Propagation
Watering plug trays of seedlings on our propagation aisle. We grow many of the plants that we sell from seed.
Vegetables
We grow many varieties of lettuce, tomatoes and other vegetables.
Spring Selection
The view out of our office window in spring. Our spring Pansy arch is in the foreground.
Perennials / Annuals / Trees & Shrubs
A view of our many annual and perennial tables.
Statuary and Pottery
In memory of Buddy, our golden retreiver. We carry a large selection of pottery and statuary. We also grow a large selection of pansies and spring bulbs.
Summer Flowering Plants
Our summer impatiens arch and selection of lilies and other summer perennials.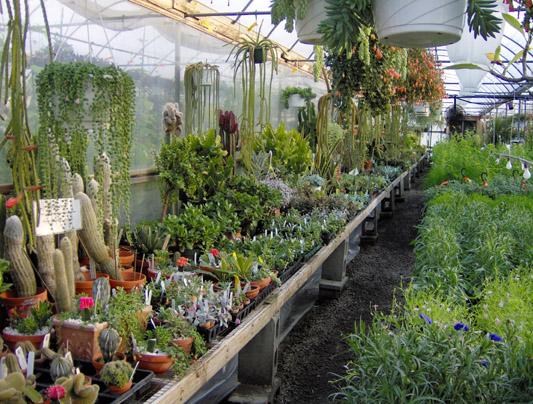 Succulent & Cacti
Succulents and cacti growing in our cold greenhouse.
Bonsai
We have a fine assortment of custom made, easy-care indoor bonsai plants in our greenhouses.
Gardening Success
View from Lake Street of our entrance display gardens. We look forward to your visit!